Watch Samuel Eto'o confront and kick a fan after Brazil vs South Korea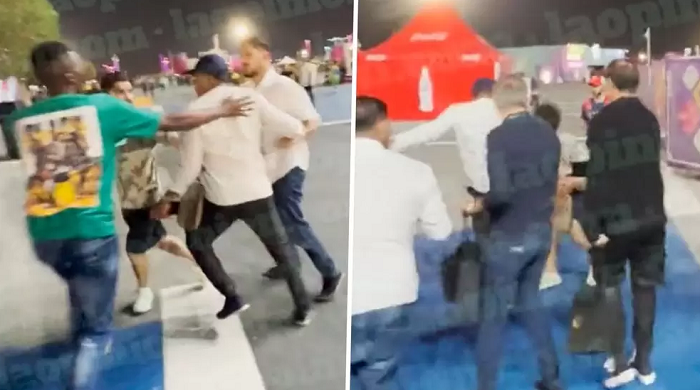 The president of the Cameroon Football Federation, among others a former Barcelona and Inter football player, attacked a fan outside the "974" stadium in Qatar.
It was not an easy World Cup for Cameroon, from a football point of view and beyond. Rigobert Song's formation, on the field, ensured the qualification in the group stage (there were rivals Brazil, Switzerland and Serbia). Disciplinary issues actually eclipsed developments in the green rectangle.
One above all, concerning André Onana, who left Qatar and his national team earlier than expected due to disagreements with his coach. In that case the intervention of the president of the Cameroon Football Federation, Samuel Eto'o, was in vain. He had to accept the situation and let the goalkeeper go.
Even for Eto'o, in reality it was a complicated year, not only because of the World Cup. As president, he had to deal with the organization of the Africa Cup of Nations in Cameroon and then continue with the preparations for the World Cup in Qatar. The former Barcelona and Inter striker, among others, stayed in Doha to watch the 1/8 final match between Brazil and South Korea.
At the end of this match, the president of the Cameroon Football Federation literally lost control. The FIFA ambassador was "eavesdropped" by a fan who tried to film him with a camera, but Eto'o didn't like the gesture at all.
[VIDEO] Samuel Eto'o golpea peligrosamente a una persona al final del partido entre Brasil y Corea https://t.co/smWcShJBYE pic.twitter.com/aXacvIHIdM

— La Opinión (@LaOpinionLA) December 6, 2022
After a completely peaceful first approach, the former striker sped up his steps, trying to hit the fan. After they came face to face, from that moment the situation degenerated.
"I heard Eto'o exchanging words with the fan in high tones, then he started chasing him, losing control. The fan grabbed his camera and that's when Eto'o went wrong. Instead of walking away, he kicked him the fan", – says Ricardo Lopez Juarez, journalist of "La Opinion", who spoke for "El Larguero".
Despite the intervention of some bystanders, who intended to separate the two and hold Eto'o, he continued to attack the fan, kicking him in the head. He then went towards the journalist Lopez Juarez, threatening him.
"I asked him what happened, but he couldn't say a word, then they took him," added the journalist. An ugly scene that contrasts with what Eto'o always showed, on and off the pitch, who lived a very, very intense year as president of the Cameroon Football Federation.