Spain shows no mercy for Costa Rica, the new Pele is Spanish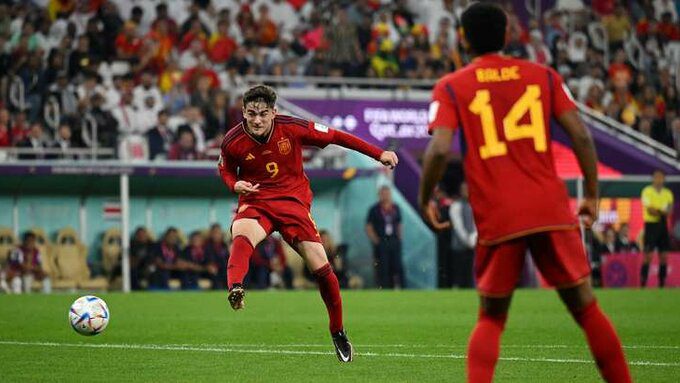 Spain have excelled in the opening match of Group E of the World Cup, played this evening at the Al Thumama Stadium in Doha against Costa Rica.
A clean and deep 7-0 win for Luis Enrique's side saw the Furia Roja national team top the group thanks to a better goal difference over Japan.
However, the Leipzig player made up for the mistake in the 11th minute. This time the assist came from the other talent of the Catalan club, Gavi, and Olmo was not wrong.
After receiving the ball with a beautiful spin in the penalty area, the 24-year-old beat Keylor Navas with a beautiful overhead kick to give Spain the advantage.
Ten minutes later, in the 21st minute, the Spanish advantage was doubled, with Marco Asensio hitting the net with a beautiful shot from outside the area.
Another ten minutes passed and Furia Roja found the third goal. Jordi Alba suffered a foul in the penalty area and the match referee awarded a penalty. Ferran Torres appeared in the white spot, who did not make a mistake.
Even in the second half, the same story continued with the Spaniards who controlled the game with ease and managed to score four more goals with Ferran Torres in the 54th minute and Gavi in ​​the 75th, with this the latter who scored with a wonderful flying kick. In the end, the goals of Soler in the 90th minute and Alvaro Morata in the 92nd minute came.
At 18 years and 110 days, Pablo Gavi is the youngest player to score at the World Cup since Pele's brace against Sweden in June 1958 (17 years and 249 days).
This is a frightening victory for the Spanish that makes Germany tremble. The Germans, in fact, will face Roja in the second match of the group where they will definitely need to get a win after the surprising defeat suffered against Japan.