France's World Cup defeat to Tunisia could be overturned, a rule has been broken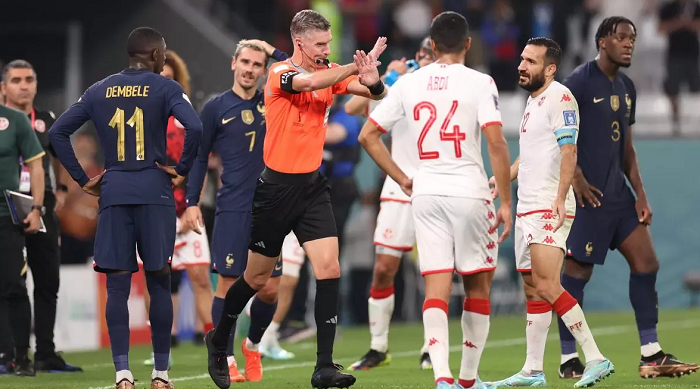 Reigning world champions France disagree and do not accept defeat to Tunisia, tarnishing their path to the first group stage.
No impact on the final standings, as they passed as the first in the group to the direct elimination stage (where they will face Poland), but the matter is both principled and respecting the rules: what happened in the final against Tunisia cannot go without noticed!
The French Football Federation is preparing a written appeal to FIFA over what happened in extra time against Tunisia, which they lost 1-0 despite Griezmann scoring a 98th-minute goal which was awarded properly and then overturned through VAR review.
What angered the French was not so much the VAR correction of referee Conger's decision, but the procedure by which it was carried out, considered absolutely irregular.
Didier Deschamps himself in the conference after the match had expressed more than one doubt about what we saw on the pitch: "The referee whistled for the start of the game after the goal and then the end of the match. Was he entitled to reverse the decision? I'm not sure" , referring to the fact that he had restarted the game regularly and then stopped at a later point.
In fact, after Griezman's goal, both teams returned to midfield to kick off again as France drew 1-1. Just then, play was stopped again, with Conger brought back by VAR.
At that point the action was reassessed and Griezmann's goal was ruled out for offside, effectively handing Tunisia the win.
But what does the VAR protocol say in these situations? The feeling is that France has every right to protest and appeal to FIFA about the final result. In fact, the regulation for a new interruption of the game, after the first confirmation of a goal, can only be made in special cases:
If the game is resumed after it has been interrupted, the referee cannot make an analysis, except in the case of mistaken identity or in the case of an offense that can lead to expulsion, such as violent behavior, spitting, biting and/or offensive words or actions.
None of this happened. "We are writing a complaint after Antoine Griezmann's goal, which was disallowed unfairly, from our point of view. This complaint must be sent to FIFA within 24 hours of the end of the match," explained a source close to the French Football Federation.