Ronaldo: "I speak when I want and I have a steel jacket"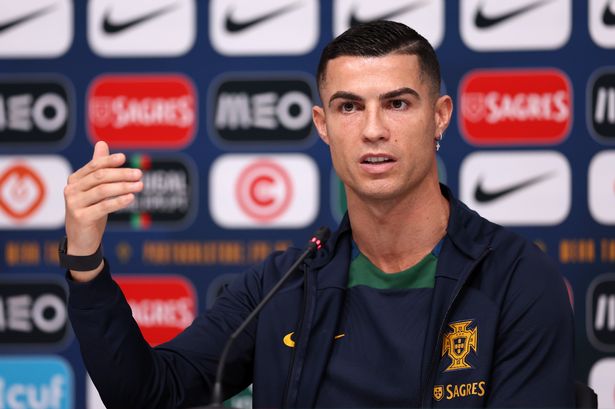 It came out early today at the press conference. Cristiano Ronaldo probably did it on purpose. Or rather, the press office of the Portuguese national team. When CR7 sat down at the table, he was met with stunned looks from the handful of journalists present.
"You always have to find the right time," said the former Juventus player in response to a question about the now famous interview given to Piers Morgan, in which he vented on Manchester United and coach Erik ten Hag.
"It's easy for you to see how we too can sometimes choose when to speak. You write truths, sometimes lies. I don't care what people think. I speak when I want to. Everyone knows who I am and what I believe."
Ronaldo then hit back at those who described Bruno Fernandes' reception at Portugal's training camp as "cold": "I'm not even pierced by a bullet, I'm wearing a steel jacket. Don't ask my teammates to talk about me .We were joking with Bruno Fernandes.His plane landed late and I asked him if by any chance he had come by boat.
On Portugal chances to win the World Cup: "We have great potential but we must think of Ghana and move forward calmly. We will grow from there. If we are the best team, we will make it to the end. The champion team will be the best. We have young people, it's a good mix.
"Brazil, Argentina, France are the national teams with the best chances… I also include Spain and Germany here. It is these favorites that resonate the most, even for fans. But we have seen in 2016 that we are capable of surprising and imposing ourselves".
"Records? I don't chase records, they come to me. Beating Eusebio would be special because I am his booster. Actually I don't think about that, but about winning the tournament. I don't see things that way, I like some more and others less. Some prefer blondes, while others prefer brunettes. People say I'm at the end of my career… I'm proud of what I've done. Of course, winning a World Cup wouldn't be bad."
"Veteran? I respect people's opinions. I want to have a wonderful World Cup for my family, for my fans. I want to win, but if I don't, I'll be happy with what I've done."
"Winning the World Cup It would be magical. I lack nothing, I have everything. Winning the World Cup would be spectacular. But everyone wants to win and only one can win. We will work focused to be champions".
"The picture with Messi? It was a campaign that I wanted to do, a campaign that I had been looking for a long time. It was pride. It is my fifth World Cup. I am optimistic".