World Cup penalties: Why are so many being missed in Qatar?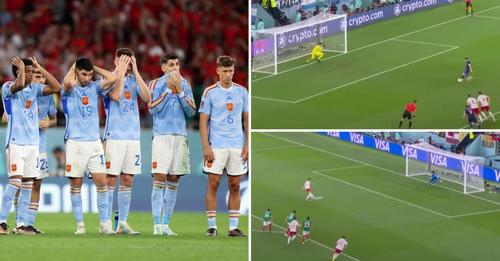 There has been a staggering percentage of penalties missed in the 2022 World Cup so far. Before the quarterfinals, 42 percent of the shots from the spot did not find the way of the net.
Only 58 percent of the 31 penalties were converted into goals. This is down from 71 percent from the previous World Cup. Both Japan and Spain exited the World Cup at the round of 16 stage after penalty shootouts against Croatia and Morocco respectively. They only managed to score one penalty between them.
Experienced players like Robert Lewandowski, Lionel Messi and Sergio Busquets have also made mistakes. So why are all these penalties going wrong? Well, the Daily Mail has produced a report attempting to answer the question. And they concluded that there are four reasons for this…
Practice doesn't always make perfect
Ironically, Spain coach Luis Enrique told his players to take 1,000 penalties each before the World Cup. "I don't think penalties are a lottery – they are specific skills and if you practice often, the skill will improve," he said.
However, nothing can prepare you for the pressure of taking a penalty in a World Cup qualifier in front of tens of thousands of Moroccan fans who want you to lose.
The goalkeepers
Are goalkeepers improving on penalty kicks? Despite the need for goalkeepers to keep their foot on the goal line when facing penalties, the penalty save rate at the 2022 World Cup is quite remarkable.
From 1966 to 2018, the World Cup penalty save rate was 17 percent. It is now 35 percent in 2022 with 11 of 31 penalties expected.
"My goalkeepers work for hours a week," said a goalkeeping coach at an English club. "These modern penalties are about the goalkeeper waiting to pounce until the last moment. If we can train the goalkeepers to stay on their feet and get the attacker to make the first move, they are more likely to mess up." .
Just put your foot through it!
Of the 13 penalties missed in Qatar, all were low shots with no power. Expert Chris Sutton explains how you should take a penalty.
"It takes a shot like the old days," Sutton said. "If there's any doubt, it's got to be hit hard! There's been a lack of conviction and the expected shots have been very poor. If I had any doubt in my mind, I'd just run and hit it hard."
Don't rush it 
Sports science professor Geir Jordet insists there should be no rush to take the penalty after the referee blows the whistle.
"The decisive moment happens 10 to 15 seconds before the start of the run," he said. "Don't let the goalkeeper distract you, focus on your breathing and take your time. It's not a race. The referee's whistle is not a start pistol."