Why are the Qatar 2022 World Cup footballs being charged charged before games?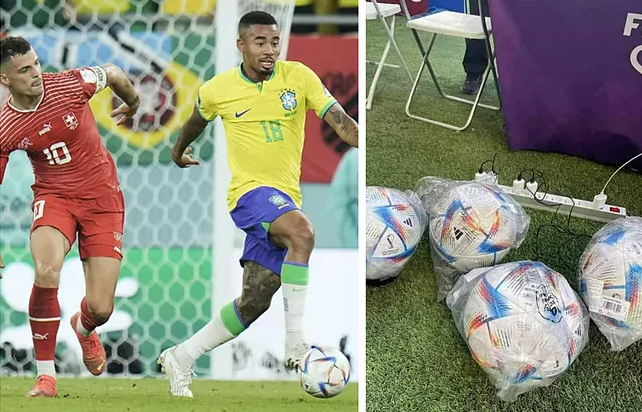 As year goes by, technology is more present each time in sports, specially in the biggest sporting events like the Olympics or the FIFA World Cup.
For Qatar 2022, a new technological advancement was presented with the idea of making the sport better and have even more fair decisions on the field, that's why FIFA and Adidas, the official ball sponsor, presented a hi-tech football called Al Rihla, that has a 14-gram sensor inside that allows it to be tracked in real time and pin point its exact location at any given moment of the game.
The balls used in worldcup are being charged because the ball has a 3D sensor inside to determine offsides. pic.twitter.com/g6lmd9Y2rF

— Rezwin (@_Goatinho) November 30, 2022
This allows the ball's location to be as exact as possible when judging goals, offsides and many other plays, proving to be a helpful tool to add to the Video Assistant Referee or VAR.
Fans started questioning why World Cup balls were being charged before the match, and this is due to the sensor inside only being powered by a small battery that lasts around 6 hours of active use.
The sensor weighs 14 grams, it was developed and manufactured by KINEXON, and their co-founder Maximilian Schmidt has explained how it works, even saying that any time the ball is impacted the system picks it up at a rate of 50 frames per second.
World Cup balls are being charged with electricity before Matchs start#FIFAWorldCup pic.twitter.com/kdrnxsLhh8

— Kick (@Kick0fficial) November 25, 2022
"Data is sent in real time from sensors to a local positioning system (LPS), which involves a setup of network antennas installed around the playing field that take in and store the data for immediate use".
"When a ball flies out of bounds during the course of play, and a new ball is thrown or kicked in to replace it, KINEXON's backend system automatically switches to the new ball's data input without the need for human intervention." Schmidt shared.