Watch the shocking brawl between England and Wales fans ahead of their World Cup match on Tuesday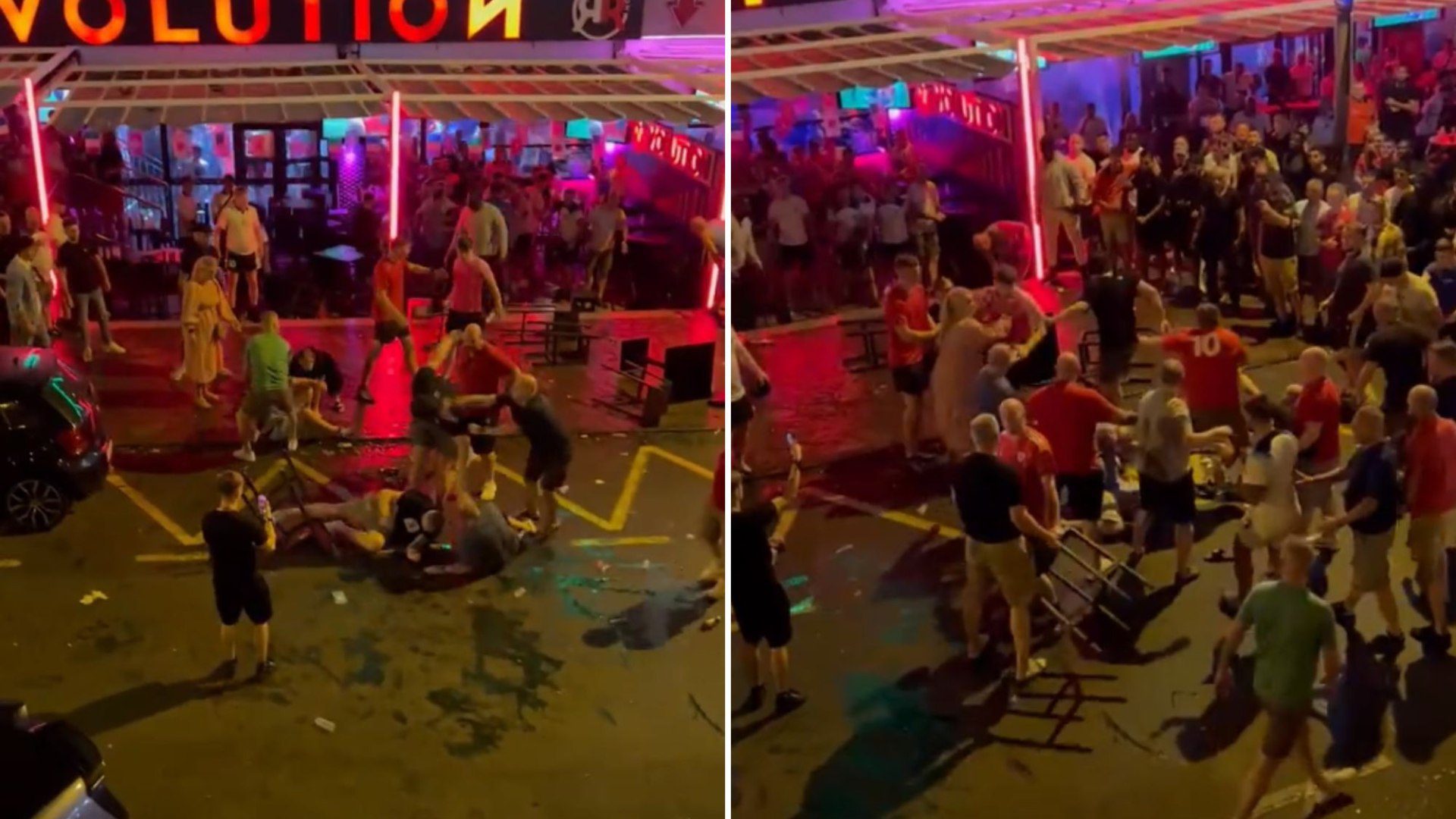 This is the shocking moment England and Wales fans started brawling outside bars in Tenerife. Fists and chairs were thrown during the brawl at Playa de las Américas south of the Spanish resort in the Canary Islands.
Footage shows both sets of fans fighting outside the CC Veronicas shopping center before the two sides clash at the Qatar World Cup on Tuesday.
Dozens of people – some dressed in Three Lions whites and others in red shirts and Welsh caps – appeared to be involved in the melee.
The shocking video begins with a group of men getting into a fist fight with one of them seen swinging a chair over his head. Fists fly and a man in black falls to the ground before being hit with a chair by a shirtless guy.
But he then gets up and tackles another man in an England shirt to the ground in the middle of the road. A man wearing a Wales hat also crashes a chair over a man wearing an England shirt, but another man is then attacked.
And then the Three Lions fan throws his chair back at the group of men on the other side of the street. The camera then pans and films an even larger group of people outside Revolution and Jumping Jacks bars.
Groups of fans clashed with each other, with some falling to the ground in a flurry of kicks and punches. All the while the strong bass of the music continues in the background. Several men can be seen trying to defuse the situation.
Spanish daily El Dia reports that several people were injured in the fight outside the bar. The newspaper reports that the fight is said to have taken place in the early hours of Friday.
So the clash was before Wales were beaten 2-0 by Iran and England were held to a poor 0-0 draw by the USA. Spanish police are investigating the incident.
England have secured passage to the round of 16 with a win and a draw. And in the meantime, Wales need to win well to keep their World Cup dreams alive.
For the Three Lions to be eliminated, Wales would have to beat them 4-0 and Iran would have to beat the USA. It is expected to be a tense match as both sides look to bounce back from poor results on Friday.