Watch the Ghana player infuriate Ronaldo by doing… Ronaldo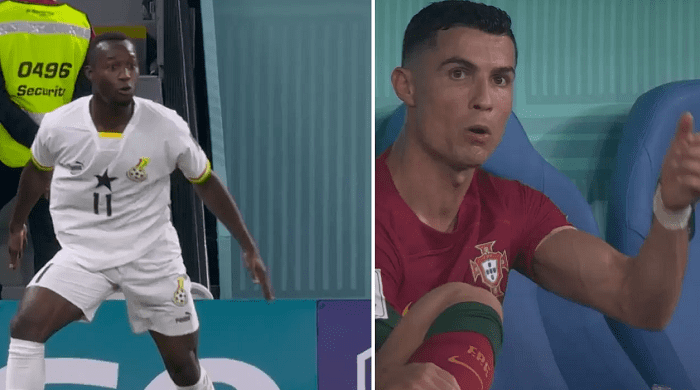 Ghana went down in their opening World Cup match in Qatar, losing 3-2 to Portugal. A deadlocked game until halfway through the second half, when the penalty taken by Cristiano Ronaldo broke the deadlock.
From there it was a flood of emotions: Ayew's equaliser, then two more goals from Portugal's Joao Felix and Leao. Finally, in the 89th minute, Bukari's goal arrived that made the remaining (extra) minutes of the match fiery.
Il #Ghana segna e #Bukari imita l'esultanza di #Ronaldo.

La reazione di #CR7👇🏻 pic.twitter.com/ObBaHiXnAd

— OcwSport (@ocwsport) November 24, 2022
Ghana's sensational equalizer could have arrived precisely "in extremis" if Inaki Williams, capable of bending behind Diogo Costa, had not slipped. That's how the match ended, with Portugal celebrating another Ronaldo record (the only footballer in history to score in five different World Cups), while Ghana is now back to the "wall", forced to score in the next match against Korea. South and then possibly playing for qualification in the last match against Uruguay in the group.
In any case, the one who will not forget yesterday's match at the "974" stadium in Doha, despite the loss, is Osman Bukari, who at the age of 23 scored the first goal in a World Cup. The exhilaration of the moment was such that the striker could not hold back and celebrated with the classic 'Siuuu' of Ronaldo, who had been benched exactly a minute earlier – replaced by Fernando Santos. CR7 did not take too well to the Ghanaian player's imitation of his "brand" (celebration).
The cameras captured the gesture of opposition of the five-time "Golden Ball" winner to Bukari's 'Siuuu', who in turn, after a few hours of controversy on social networks, intervened on his Twitter profile to deny that his behavior it was disrespectful to the Portuguese champion:
I have noticed my celebration today has generated comments claiming I was disrespectful towards Ronaldo

This is incorrect. I was overcome by the emotion of the moment of scoring for my country on my World Cup debut leading to my celebration.

My upbringing doesn't permit me

1/2 pic.twitter.com/5MWy0yaql0

— Osman Bukari (@OsmanBukari9) November 24, 2022
"I noticed that my party today has generated comments, saying that I was disrespectful to Ronaldo. The debut goal in the World Cup made me celebrate like that. My upbringing does not allow me to disrespect the elderly, not to mention a from my idols. Thank you for your support, we will focus on our next match."
If Ronaldo will have appreciated the ability to include Bukari among those who have established him as their idol, he will surely have been less happy to touch on a sensitive point for him such as age, at some point career, at the age of 37, when he should think about "sunset"…