WATCH: Shocking footage, Riot erupts during the Belgium vs Morocco match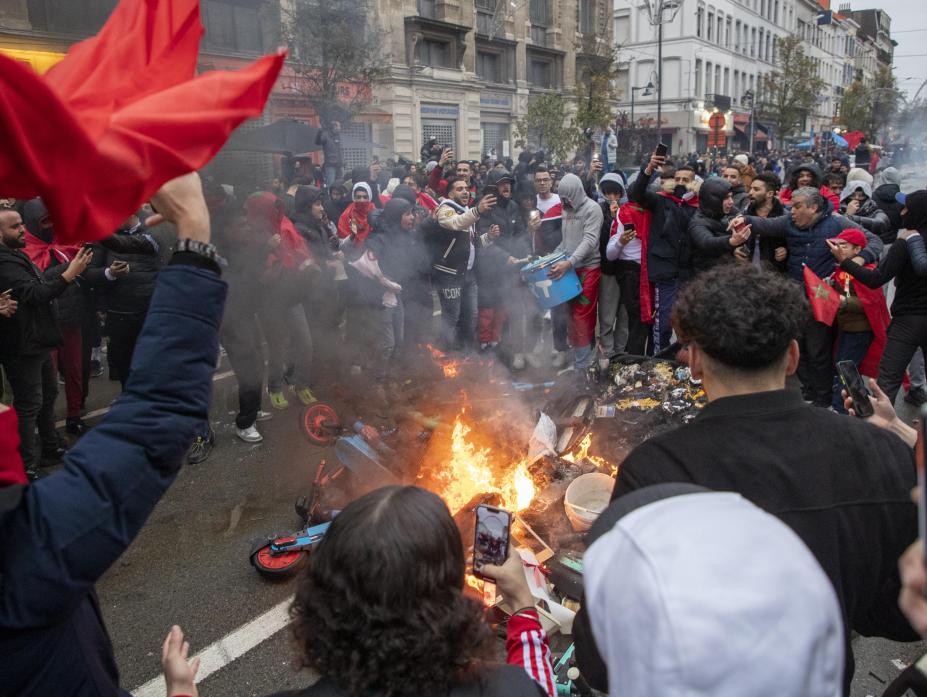 Cops blasted water cannons and fired tear gas as rampaging football fans chucked fireworks, flipped cars and set fire to scooters. Around 100 riot cops were scrambled to the chaos in the capital during the game – which ended with a 0-2 defeat for Belgium in Qatar.
Rioters have started fires and pelted cars with bricks in Brussels and Antwero following Belgium's shock 2-0 loss to Morocco at the World Cup. Police had to seal off parts of the city centre, deployed water cannons and fired tear gas to disperse crowds as violence broke out following the match.
#Bruxelles, match #MarocBelgique : Tout est prétexte à violence ! Jusqu'où ? pic.twitter.com/c4n5vxW68G

— Gilbert Collard (@GilbertCollard) November 27, 2022
Dozens of rioters set steps on fire and pelted cars with bricks, before police moved in when one person suffered facial injuries, according to a police spokesperson. Morocco's victory was a major upset at the tournament and was enthusiastically celebrated by fans with Moroccan immigrant roots in many Belgian cities.
Even subway and tram traffic had to be interrupted on police orders, while there were also disturbances in the city of Antwerp. It was not immediately clear how many people were detained during the disturbances.
Le match Belgique-Maroc dérape complètement à #Bruxelles#BELMAR #Brusselspic.twitter.com/FnbJ8EBA8b

— Infos Bruxelles🇧🇪 (@Bruxelles_City) November 27, 2022
Mr Close said has ordered police to make arrests, adding: 'I strongly condemn the incidents that occurred this afternoon. 'The police have already acted harshly. So I advise supporters not to come to the centre. The police are doing everything they can to maintain public order.'
🥴La #fêtedufoot à #Bruxelles 🙄… n'importe quoi🤬‼️ Si c'est cm ça mtn🤨, il faut fuir le pays s'ils gagnent le #Mondial2022 du #qtar2022 😳 pic.twitter.com/DvqKxGHZml

— Maria da Costa (@Myjuma) November 27, 2022
Supporters Marocains à Bruxelles, c'est pas fini… #BELMOR #BELMAR #BEL #Maroc #Bruxelles #Belgique #Brussels #Belgium #FIFAWorldCup #WorldcupQatar2022 #Qatar2022 pic.twitter.com/ucSOf6yx5y

— Boduo Gnatos (@boduognatos84) November 27, 2022