WATCH: Fan uses a genius trick to sneak alcohol into the stadium, but was discovered by Qatari police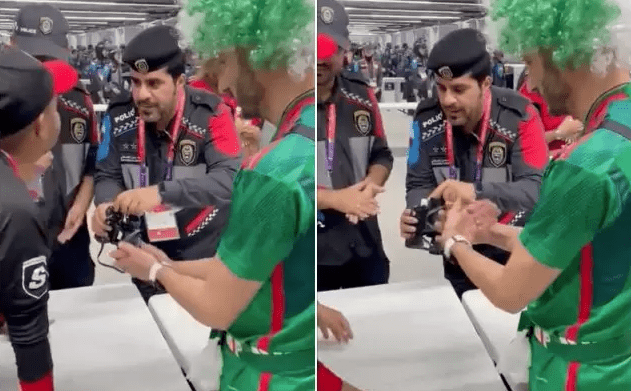 In Qatar, it is not possible to bring, buy or consume alcoholic beverages in the World Cup stadiums or in the surrounding areas. Even a very ordinary beer, simple and lighter, is considered illegal. The order of the government of the Arab country was binding and the application iron to the point of putting FIFA itself in difficulties for relations with its sponsors.
Public and private life is permeated by a series of rules that limit individual freedoms in the face of very heavy prescriptions. That's how it works in that corner of the world that overlooks the Persian Gulf and holds the wealth of petro-dollars. Anyone who goes there knows what to expect. Like it or not, right or wrong, this is their tradition.
In the list of recommendations made to fans who headed there, everything was told with methodical precision. The list of things that cannot be done starts from the stiffness of clothing (for men and especially for women) to the possibility of exchanging kisses in public. Talking about homosexuality or even wearing the colors of the rainbow flag is completely unacceptable.
The 'political' case of the 'One Love' group, the rebellion of the national teams forced to bow down to not suffer sports sanctions announced by FIFA, the striking gestures of Germany (hands over the mouth) and Denmark (threat of withdrawal from FIFA) are some of the most controversial aspects that have characterized the accessories of this edition of the World Cup so far.
Not everyone, however, gives up. There are also those who, following the old adage "make the law, find the trick" try to circumvent the rules with cunning. It happened during the match between Poland and Mexico. A fan tried in a rather clever way to introduce a prohibited liquid into the plant, but at the entrance gate he was stopped, checked and discovered. As a result, the alcoholic drink he was carrying was confiscated.
He had a flask in the shape of binoculars, from those that can be found on the market in online stores at a cost of 20, 30 euros and with a capacity of up to half a liter. The lens you rest your eyes on was nothing more than the lid of the small tank packaged inside the box with a deceptive shape to many, but not to the police agent who did not let himself be fooled by that trick.
The policeman took one look at the accessory and realized that there was something strange about it. He noticed the handy spout for filling the balloon and drinking, confiscating the object, while the colleague next to him smiled in amusement. Was there really alcohol in that little bottle? It seems so, although many Internet users have raised the suspicion that it was a disinfectant substance and not an alcoholic drink.
Qatari security confiscates binoculars a fan used to hide an alcoholic drink in. pic.twitter.com/btLUYz4F8T

— FT90Extra (@FT90Extra) November 23, 2022