WATCH: Croatia celebrating the third place of the national team in the World Cup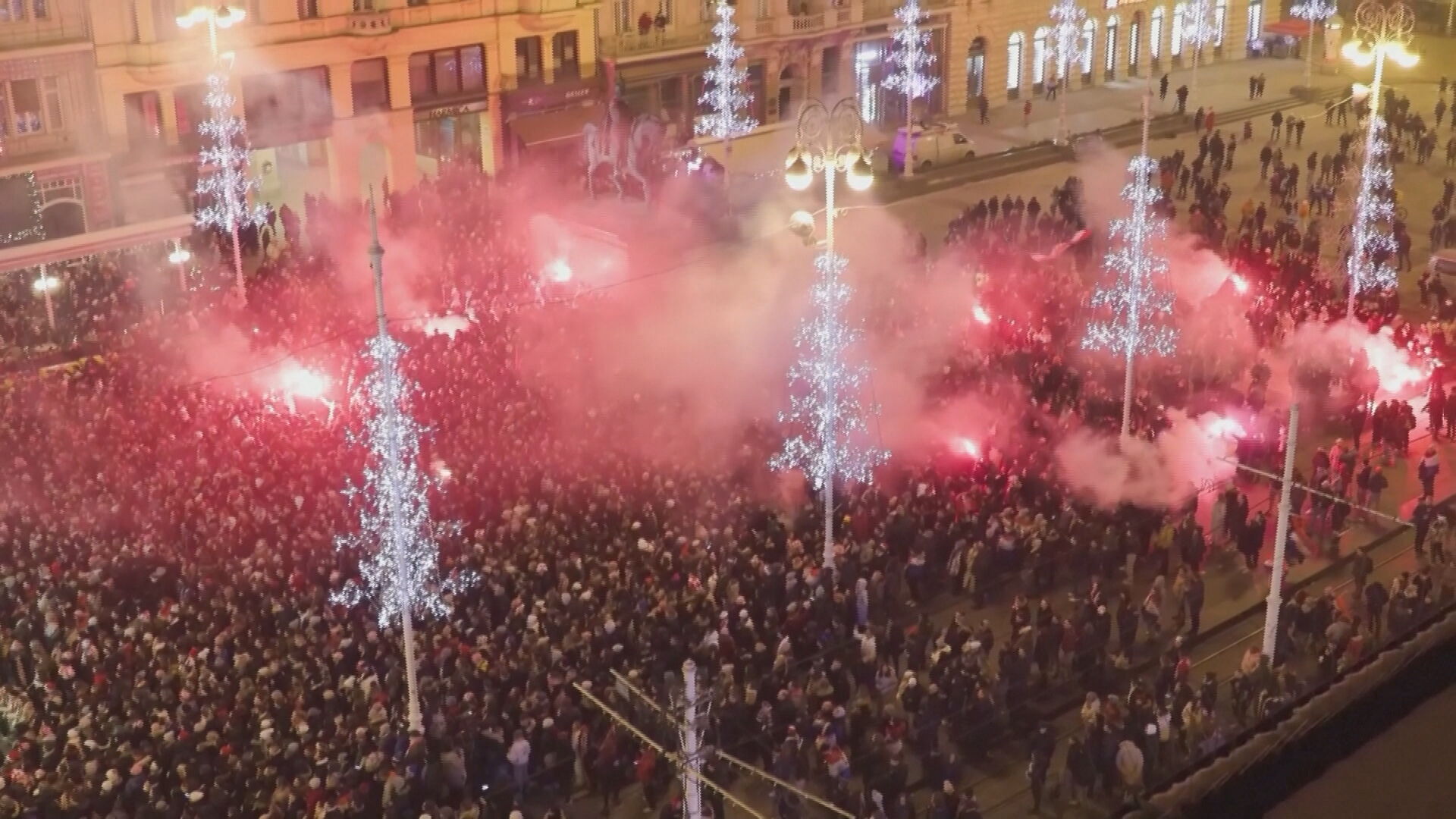 Thousands of people in Zagreb and in other major Croatian cities celebrated the conquest of the third place at the World Cup by the home national team, with rallies, improvised parades, music, songs and fireworks.
In the capital, the crux of the celebration was, as per tradition, the central square Bana Jelacica, where the match against Morocco was broadcast on a giant screen, and where the supporters of Modric and his companions, wearing their traditional checkered shirts, long chanted slogans praising the team coached by Zlatko Dalic, amidst the waving of flags.
Very attended celebrations were also registered in Split, Rijeka, Osijek. despite the cold weather and the rain. President Zoran Milanovic, with a message on Twitter, congratulated the national team stating that, since the beginning of the World Cup, the players in Qatar have shown character, skill and strength, fighting to the last and deserving of a medal. More celebrations are expected on the return home of the Croatian national team, scheduled for tomorrow
Locura en Zagreb con la victoria de Croacia trás conseguir el tercer puesto en #Qatar2022 #Croacia#SoyCroata#Qatar2022#Zagreb

🎥 Imágenes de @marca pic.twitter.com/BGFy5roixZ

— Tiempo Deportivo (@TiempoDeportiv8) December 17, 2022
After the end of the match, the coach of Croatia, Zlatko Dalic, appeared very happy. "This medal is a bronze with golden reflections. We won a tough game, it was great. This is a medal for Croatia and for the entire Croatian people. For all those who love us in the region and in the world. Really fantastic, we won two medals in two World Cups, I have to say a big congratulations to my players.
🔴CROATIA :#VIDEO MASSIVE CELEBRATIONS IN CAPITAL CITY OF ZAGREB
AFTER CROATIA BEAT MOROCCO 2-1 AND WINS 3rd PLACE IN 2022 FIFA WORLD CUP ! #BreakingNews #UltimaHora #Zagreb #WorldCup #Khalifa #Qatar2022 #Qatar pic.twitter.com/2MwnKWk2ak

— loveworld (@LoveWorld_Peopl) December 17, 2022
I would like to dedicate this victory to a man who started everything, namely Miroslav Ciro Blazevic. Boss, this is for you, this is your medal, I may win five medals, but you are the coach of all coaches. Few expected 18 young players, four from the Croatian league, to do this. For me this bronze medal is gold, to win it in such a competition is wonderful. A big thing for our people", said Dalic excitedly.