TV reporter is robbed live on air at the Qatar World Cup; the harsh police response leaves her speechless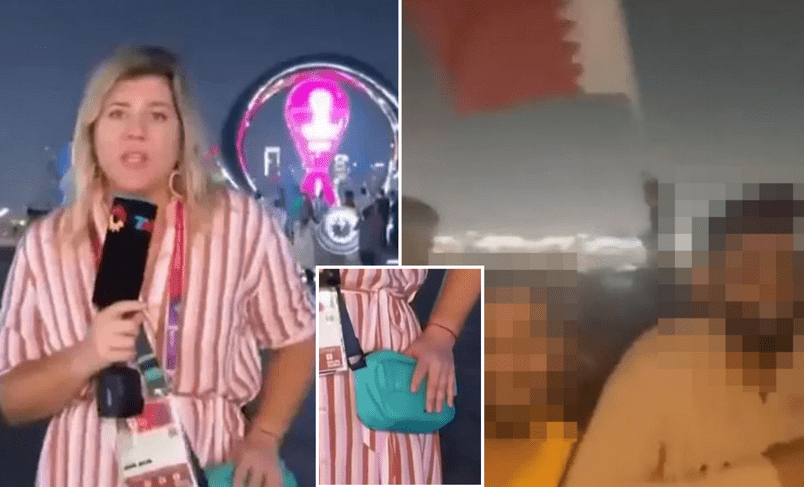 At the Qatar World Cup, a TV reporter's pocketbook was stolen live on air. She was shocked by the savage police response. When Dominique Metzger was conducting interviews with dancing fans last night in Doha in advance of the first game, she thinks a burglar unzipped her handbag.
The journalist, who works for the Argentine television network Todo Noticias, informed viewers she lost cash, identification, and credit cards. Although the pickpocket was not seen on camera, the channel showed the moment when it is thought that he struck when she was speaking to another admirer and just out of sight.
Later, she revealed to viewers: "I was dancing along with the crowd. I'm certain that's when my bag's zipper was opened and my wallet was taken. I was on air, in the thick of the throng, listening to loud music, and chatting to you guys at the time, so I didn't realize it."
La journaliste argentine Dominique Metzger a été volée en direct alors qu'elle faisait un reportage au Qatar sur la Coupe du monde. Une partie de son argent et ses papiers ont été volés. pic.twitter.com/btfcFOnhC1

— Claire (@Langoula1Claire) November 21, 2022
Dominique said that she made a complaint in a room designated exclusively for women at a police station in Doha. She was informed by officers that the capital's Corniche neighborhood was being watched by cameras.
Police would find the offender, she claimed, and she would get to decide how he would be punished. They asked me: "What do you want justice to do about this," Dominique responded in shock. "We'll track down the wallet. High-tech cameras are everywhere, and we will use facial detection technology to find the thief.
"'What do you want justice system to do to them when they are found? Do you want us to sentence him to five years in prison, to be deported?' He asked me to make the decision. I told them I just want my wallet back, I won't be making the decision for the justice system".
The most watched sporting event ever is expected to be the contentious Qatar tournament. According to sources, there are 20,000 cameras and face recognition equipment all throughout the eight stadiums watching over the spectators. On Sunday evening, Ecuador defeated Qatar 2-0 in the game's opening action.