This World Cup team is super favorite to win it all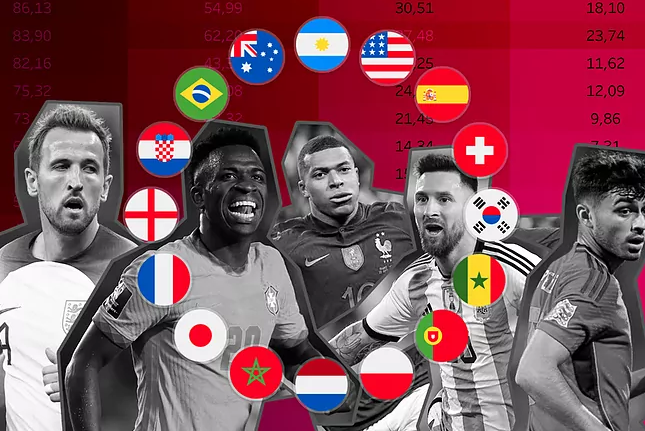 With the start of the 1/8s of the World Cup, the first predictions have arrived as to which of the remaining teams will win the coveted trophy.
Opta Analyst has made its predictions and Brazil and Argentina (who share the same side of the draw) are the favorites to reach the final. On the other side of the table, England and France are the most likely. Spain has the fifth best percentage.
Looking at the situation after the group stage and anticipating what could happen in the knockout rounds, some of the teams favored to reach the final will face each other before December 18, the date of the grand final.
Such is the case of Brazil and Argentina, who would play in a hypothetical semi-final, or France and England, who could meet in the quarter-finals.
Spain is favorite against Morocco
According to Opta Analyst calculations, Luis Enrique's side are more likely to progress to the quarter-finals than Morocco, their opponents on Tuesday.
The Spaniards have a 73.47 percent chance of advancing compared to 26.53 percent for the North Africans. As expected, Argentina, Brazil, England and France are all favorites in their round of 16 matches as well, with the Albiceleste honoring the prediction against Australia. Qualified Netherlands were also favourites, as were Portugal and Croatia against Switzerland and Japan, respectively.
Argentina and Brazil have good chances to reach the semi-finals. It is most fought between England and France. The French are only 1.30 percent more likely to reach the semi-finals than the English.
Brazil is more likely to triumph in Qatar
As for the final, Brazil has the best chance (37.48 percent) of making it. They are also favorites to win the title (23.74 percent). The second is Argentina, who must eliminate the Seleçao in the semi-finals to get there.
At the other end of the table, England are more likely, 24.58 percent to reach the final and 12.09 percent to win the title, although they would have to beat France in the quarter-finals.
As for Spain, they have a 42.32 percent chance of reaching the semifinals, 21.45 percent of playing in the final and 9.86 percent of winning it.
On December 18, we will see if these predictions of Opta Analyst will be correct or the World Cup will give us some more surprises as it happened in the group stage.