The back story behind Rashford's brace for England vs Wales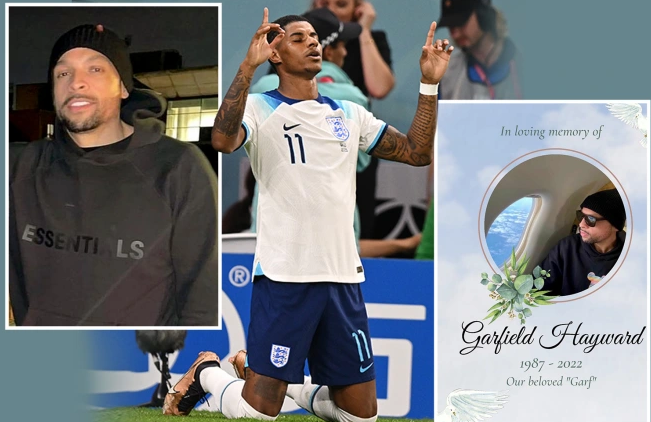 Marcus Rashford scored twice for England against Wales on Tuesday night, sending his side into the knockout stages of the World Cup. But the 3-0 win was even more special for the Three Lions star as he dedicated it to a friend who lost his life just days before.
The 25-year-old completed a superb free-kick and finished off a one-man move by slotting the ball through the legs of Welsh goalkeeper Danny Ward.
He celebrated by getting down on his knees and pointing to the sky with his eyes closed, and later revealed he was paying tribute to his lost friend Garfield Hayward.
Speaking after the match, Rashford said: "Unfortunately I lost one of my friends a few days ago. He's had a long battle with cancer, so I'm delighted to score for him.
"He's always been a huge supporter of He was just a wonderful person and I'm glad he came into my life, really."
Social media has been flooded with tributes to Garf, who friends described as "a legend, always". Calder Taylor, who shared an emotional video, said: "Rest in peace my brother. I will always love you."
While another posted: "One of the nicest people I've had the pleasure of meeting." And MailOnline reports that his nephew Steven said: 'My heart is hurting so much knowing I won't see you again in this life.
"Uncle Garf, one of the truest men I have ever known. You will forever be in my thoughts and heart until the day I die."
England has passed to the 1/8 where they will face Senegal on Sunday. Rashford believes Gareth Southgate's side are strong enough to mount a serious challenge in the knockout stages.
"I feel like the ambition in the squad is really good. We have a good mix of qualities. We have a really good squad and a team that is definitely capable of challenging to win the tournament.
"I hope we can continue this performance, keep improving and keep scoring goals and showing our qualities," said the Manchester United star.