Revealed: Here's what Messi said to Scaloni during teh win against Poland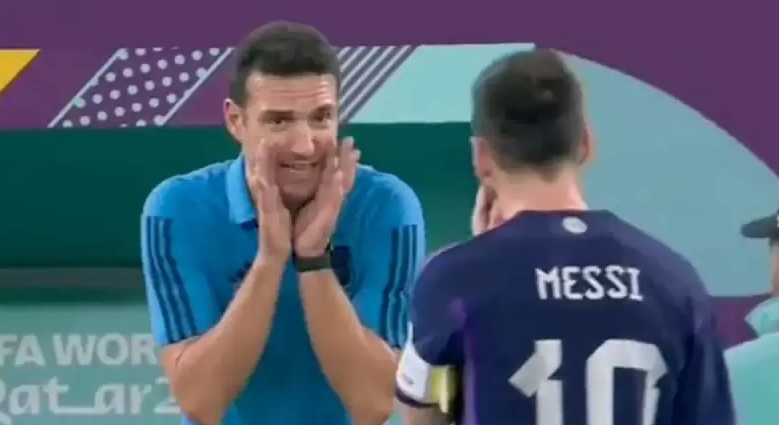 Of course, there was no shortage of emotions in the last matches of Group C of the World Cup. At the end were Argentina, who had started the adventure in Qatar very badly with the loss to Saudi Arabia, and Lewandowski's Poland, who qualified for the round of 16.
The latter succeeded at the expense of Mexico for better goal difference. However, the situation has always evolved, as evidenced by what happened in Poland-Argentina, with the dialogue between Leo Messi and Lionel Scaloni.
After Szczesny saved Messi's penalty, Argentina had their worst fears after the first half. Mac Allister's goal then chased away the ghosts, despite what happened in the next match between Saudi Arabia and Mexico. Julián Álvarez then took care of closing the accounts, sealing the result and qualification.
Exclusive @TyCSports | After the second goal, Messi asked Scaloni about the result of Saudi Arabia and Mexico

🗣️ Scaloni: Any other goal would disqualify Poland. pic.twitter.com/RmTQUEBYUy

— 𝐁𝐚𝐫𝐜̧𝐚𝐕𝐞𝐫𝐬𝐞 (@BarcaVerse_) December 1, 2022
However, the group situation remained in doubt until the last second, as Poland and Mexico found themselves tied, both on points and on goal difference, with Poland to be awarded fair play because they had fewer cards. In the end, Arabia's goal (1-2) doomed the Mexicans, with the Poles qualifying side by side with Argentina.
During the match, the cameras immortalized a dialogue between Leo Messi and the South American coach, Scaloni. The Argentine star approached the bench to ask his coach a series of questions. The cameras filmed it from different angles, with the argument that the conversation was related to the general situation in the group. The coach's side, according to what was confirmed by the Argentine press, is vague "2-0, 2-0", referring to the provisional result of Mexico, to dispel the doubts of a confused Messi about the situation in the group.
At that point, Scaloni continued: "They don't want more goals, they don't want more goals. If we score one more goal, they are eliminated." Words that seem to be a reference to the situation of the Poles, who at that moment, with another goal conceded, would have worsened the goal average, having overtaken Mexico.
👀 La charla entre Scaloni y Messi:
-"No quieren más, le hacemos uno más y quedan afuera" parece decir el entrenador.
+"2 a 0 allá?" Responde Messi
-"Claro", afirma Scaloni. pic.twitter.com/FYrzUqCvqm

— Marco D'Arcangelo (@MarcoDArcangel7) December 1, 2022
An indicator, so as not to "ruin" the qualification already placed in the vault by Argentina? Or a simple observation of Poland's cautious stance, determined not to concede any further goals? Saudi Arabia then surprised everyone with the goal that effectively eliminated Mexico for the overall goal difference tally, rendering useless the yellow card count that would have always awarded Poland.