Qatar 2022, England-Iran 6-2: record start for the Three Lions in the World Cup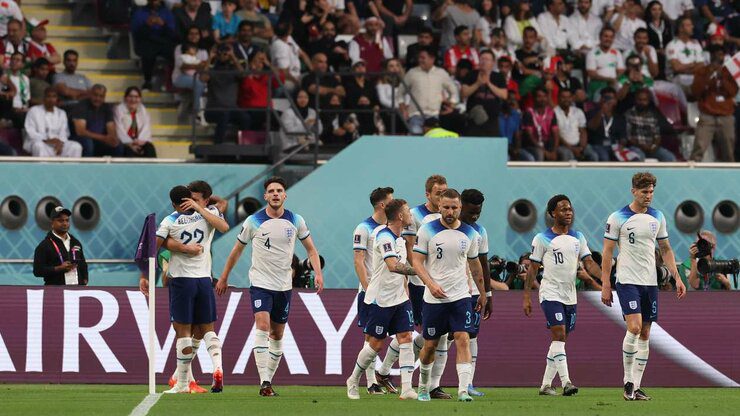 England's sprint start at the 2022 World Cup in Qatar. Southgate's national team convinced on their debut by overwhelming Iran 6-2 in the first match of group B.
THE MATCH
England's 2022 World Cup starts in the best possible way. In the endless opening match against Iran, Southgate's national team literally dominated their opponents with a test dominated from start to finish. The English, favorites to win group B, are already sending a clear message to the United States and Wales as well.
At the start of the match, fear for the Iranian goalkeeper Beiranvand, who collides violently with his teammate Hosseini and after a long stop due to the doctors' intervention (over ten minutes) is forced to leave the field: nosebleeds and dizziness head for him.
The game stopped between the 9th and 20th minutes, in the second half England put their foot on the accelerator and in the 31st minute Maguire hit the crossbar from a corner kick. It is the appetizer to the British advantage with Bellingham who heads into the center of the area from a cross from Shaw.
England breaks the barriers of Iran, which does not react and between the 43rd and 46th minutes suffers the definitive one-two from Saka and Sterling. The first with a nice shot under the crossbar, the second with a volley from Kane's assist.
The match actually ends here, after 14 minutes of added time the second half is used by Southgate's men only to administer, in the quarter of an hour Saka signs his personal double by doing what he wants with the defense of Iran now in disarray.
Taremi's blaze in the 65th minute shortens the distance for Queiroz's team, Southgate loses Maguire due to an injury, not bad because it takes the newcomer Rashford 10 seconds to drop his hand into the sieve of the Iranian defense.
English academy and the last acceleration before the triple whistle also gives joy to Grealish who puts in an empty net on an assist from Wilson, in the middle of 10 minutes of added time Azmoun instead presses the shot on the crossbar face to face with Pickford who touches just enough.
But that's not all, there is still time for a penalty awarded by the Var to Iran and Taremi signs his personal brace from 11 meters even in the 103rd minute.