Pepe: the man of records, the unreliable villain who slept with his parents until he was 18!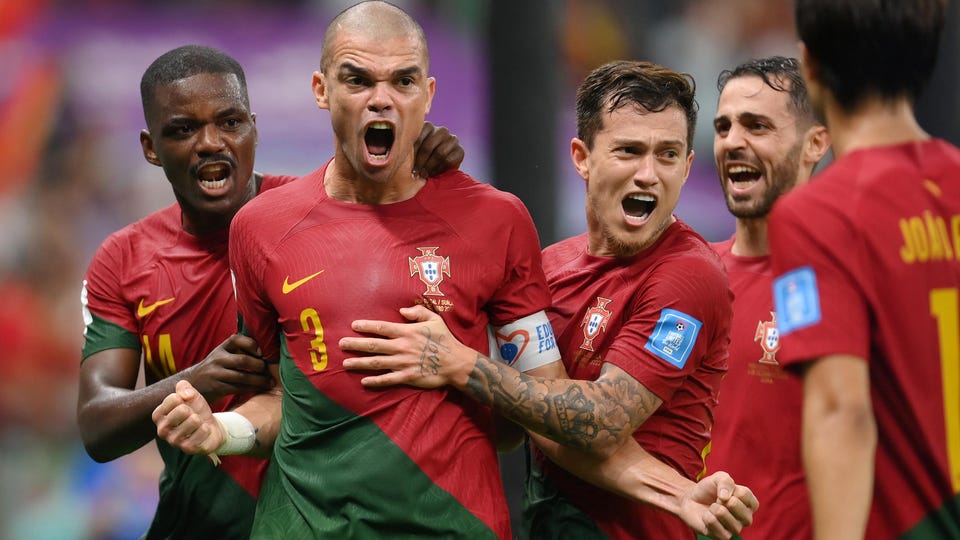 Portugal overwhelmed Switzerland in the the last 16 of the World Cup and flew to the quarterfinals on the wings of Gonzalo Ramos and Pepe. The Porto defender, who is approaching forty, is living a second youth and with the 2-0 goal he takes a record of the legendary ones.
At 39 years and 283 days he becomes the oldest goalscorer in the history of the competition in the knockout phase. And if you consider that he took the record away from someone like Roger Milla, then it's worth double. Then the Lusitanians enjoy their amazing Pepe. Someone who got all the possible labels. First of all that of the bad guy.
The defender is in fact one of those who always puts in all the competitive spirit possible on the pitch, sometimes…even exaggerating.
But behind the face of a footballer who a referee like Clattenburg has defined as "very difficult to direct", who "you can't trust because he's always ready to cheat you" there is also a complicated story, as he himself told some time ago at Grandstand Expresso.
In 2001 a very young Pepe arrives and is invited by Maritimo, a team from Madeira, to fly to Portugal. The problem is that the defender is not exactly in the best economic conditions…
"When I arrived, I had the equivalent of five euros in my pocket. I was in the immigration department, because I arrived from Brazil alone, at the age of 18. I had to bring a fax from the Maritimo with me, requesting that I enter Portugal.
"With that money I had to buy a phone card to call my mother and tell her I was fine. The other option was to buy some food. And I thought 'ok, let's reassure mom'".
A relationship, the one with the parents, that is really strong, as demonstrated by another revelation. "Until I arrived in Portugal, I was sleeping in the big bed so imagine the scene… I was already quite robust and slept with my parents, so I guess my father didn't really like me being there".
Between one laugh and another, however, there is also time for a more sentimental memory. "Once I talked to my mother and she told me that when I was little I loved stroking her hair. I told her that maybe I already knew that I would spend too much time away from her".
In short, a tough guy with a heart of gold. And that he has a secret… very sweet. "I have a friend who brings me honey from Brazil when he comes and with that you are immune to many things. It is one of the secrets of my longevity," the defender revealed to TNT Brazil. And perhaps also thanks to a teaspoon of honey…that those records arrive!