Messi and the chance to achieve a unique treble at the World Cup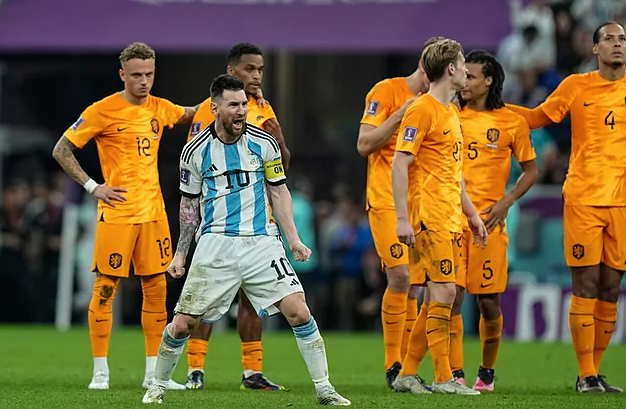 The 2022 World Cup is arguably Lionel Messi's best of the five he has competed in so far, as he feels comfortable on and off the pitch. Messi's ambition is clear, as he wants to win the World Cup.
He has been meticulously preparing for months, knowing full well that he should reach the peak of form during the months of November and December. Based on his performances so far, you'd have to say he's nailed it.
Right now, Messi stands on the verge of a unique treble, which would see him claim the World Cup, but also the Golden Boot and Ballon d'Or of the World Cup.
Messi could win another World Cup Ballon d'Or
FIFA's Technical Study Group, chaired by Arsene Wenger, creates a list of outstanding players at the tournament and then the press votes for the best players on the list.
While we have to wait for the semi-final and final, Messi will inevitably feature prominently given his contributions so far. He already won the Ballon d'Or in 2014, despite losing the final to Germany. Will he repeat this success now?
Top scorers of the 2022 World Cup
While what matters to Messi is the overall title with his country, he is also in contention to win the Golden Boot for top scorer. France's Kylian Mbappe currently leads the race with five goals, but Messi is just one goal behind on four, level with France's Olivier Giroud.
Messi is also having his most productive year for Argentina in terms of goals. This is his best calendar year in terms of goals for the Albiceleste, with Messi having scored 15 so far in 2022.
Other records for Messi
The Argentine also has three Man of the Match awards so far – against Mexico, Poland and the Netherlands. The striker gave up one against Australia, to his team-mate Alexis Mac Allister, with Messi now having 10 man of the match awards at World Cups in total.
His longtime nemesis, Cristiano Ronaldo, is next on the list with seven. Messi's other records include equaling Gabriel Batistuta's record for the most goals in World Cups with 10 and on Tuesday he will equal the all-time record for World Cup appearances held by Lothar Matthaus with 25 games.