Memes against Canelo explode after Messi's missed penalty eliminates Mexico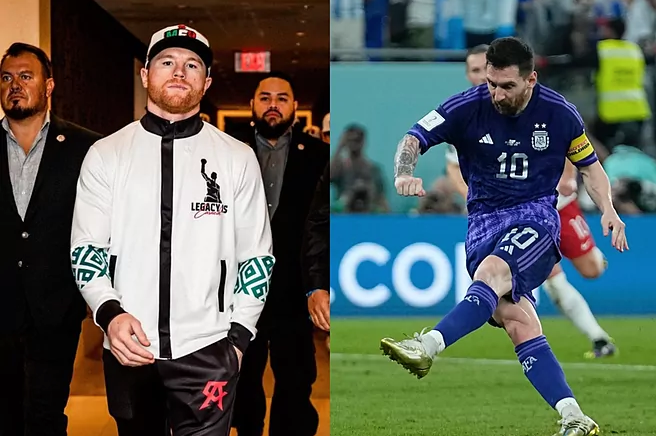 Every single time Leo Messi gets criticized for anything, the Argentina star tends to remain quiet and tends to respond inside the pitch. Evidence confirms that Leo doesn't even mean to respond, almost 100% of the time.
That's exactly what happened with Canelo, who becameArgentina's Public Enemy No 1. since Saturday's threats. It took him a good four days to finally apologize and get a reality check.
But the apology came too late for Mexico, karma believers will say poetic justice is very real. During the most important day for both national teams, a Messi missed penaltyis what eliminated Mexico.
Had Leo scored that goal, he would've definitely helped El Tri get through to the Round of 16. After both games ended, Twitter users relentlessly sent all types of memes against Canelo that will make everybody smile.
We know Messi's missed penalty was only a coincidence but people who love banter like the idea that Canelo got a taste of that instant karma. For example, just look at all the memes below the following tweet from @NoContextFootball showing Lewandowski secretly talking to Messi after the final whistle.
As he's done it for so many years, Leo Messi always does his best to stay away from any type of controversy. If a journalist dared ask him about Canelo's threats, chances are he will shy away from the question.
Leo doesn't enjoy this type of conflict, he will probably be grateful for all the support from fans and friends. However, he will not address Canelo's threats in any form. It's simply not his style but all these memes will respond to the boxer far better than anything Messi can say about the resolved conflict.
MEXICO ARE ELIMINATED IN THE WORLD CUP GROUP STAGE FOR THE FIRST TIME IN 44 YEARS 😱 pic.twitter.com/SDPnR9YOuK

— ESPN FC (@ESPNFC) November 30, 2022
Canelo threatened Messi over nothing, and said he better watch out for Canelo in the streets.

Mexico then got knocked out of the World Cup because Messi missed a penalty…

…and because they were more violent in the group stages 😭 pic.twitter.com/h2UgpCLjQL

— FootballSoccerMeme 🏴󠁧󠁢󠁥󠁮󠁧󠁿 (@fsmofficialTW) November 30, 2022
Canelo arriving at Messi hotel for failing the penalty pic.twitter.com/zXjKgsMHSS

— Matt (@Morfostto) November 30, 2022
– Made him apologise without saying a word

– Missed a penalty that if he scored would've likely meant Mexico qualify

– Never acknowledged his existence

Lionel Messi owns Canelo Alvarez pic.twitter.com/fXmErnIAjl

— Ace̵̜̭̖̋ (@AceCombat__) November 30, 2022
Canelo after Mexico got eliminated from the World Cup because Messi missed a penalty pic.twitter.com/0KL8XgePeo

— LakeShowYo (@LakeShowYo) November 30, 2022