Mbappe is the best player at the World Cup, but only eighth in this special top 10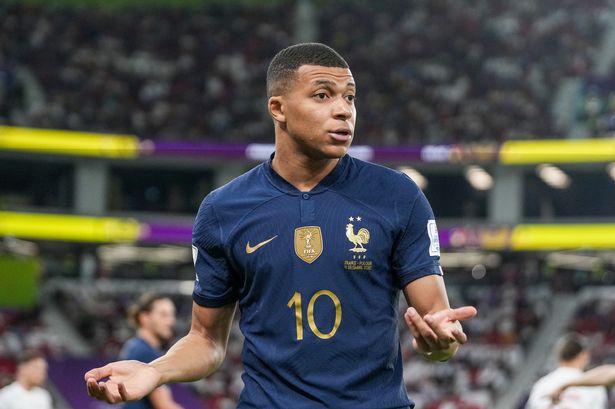 France national team superstar Kylian Mbappe is shaping up to become the best player of the 2022 FIFA World Cup in Qatar. "Les Bleus" need two more victories — first against Morocco on Wednesday and then Sunday against the winner of Argentina vs. Croatia — to become back-to-back world champions.
Mbappe, 23, would solidify himself an icon of the sport alongside the likes of Cristiano Ronaldo or Lionel Messi, eventually becoming the greatest of all time.
Currently, Mbappe has scored five goals in Qatar. He is emulating what only great players such as Pele or Diego Maradona have accomplished at such a young age.
Mbappe also has incredible speed, especially with the ball at his feet, but he surprisingly barely cracked the 10 fastest players list at the 2022 World Cup.
How fast is Kylian Mbappe?
Mbappe is the fastest player in Ligue 1, reaching a speed of 22.4 mph earlier in the season, according to Sporting News. In Qatar 2022, however, the fastest player has been Rennes Kamaldeen Sulemana of Ghana, who reached a top speed of 22.1 mph, per The Athletic. Mbappe is eighth among the top 10 fastest players of the tournament.
Names such as Nico Williams of Spain, Daniel James of Wales, Antonee Robinson of the United States and Achraf Hakimi of Morocco have all reached at least 21.7 mph, faster than Mbappe.
Fastest players at the 2022 World Cup
1 – Kamaldeen Sulemana, Ghana, 22.18 mph
2 – Nico Williams, Spain, 22.12 mph
3 – David Raum, Germany, 22.00 mph
4 – Antoine Robinson, United States, 21.99 mph
5 – Daniel James, Wales, 21.99 mph
6 – Achraf Hakimi, Morocco, 21.93 mph
7 – Ismaila Sarr, Senegal, 21.93 mph
8 – Kylian Mbappé, France, 21.87 mph
9 – Nemanja Radonjic, Serbia, 21.87 mph
10 – Tajon Buchanan, Canada, 21.87 mph