Luis Enrique in the unusual role of coach and father-in-law: "My  daughter will chop my head off if I…"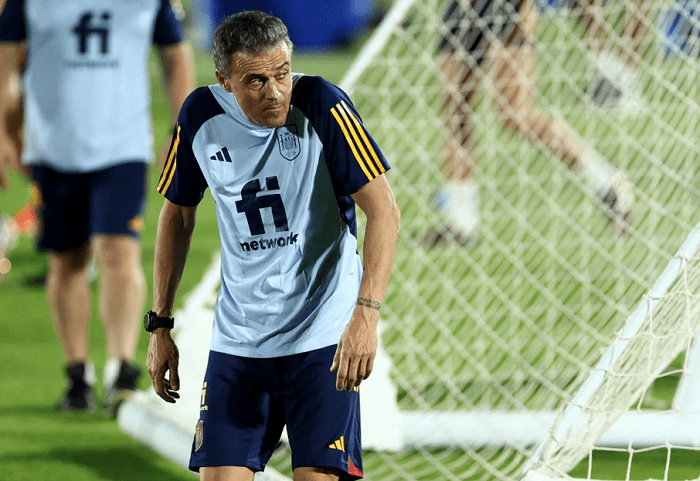 In Spain the connection was known for some time, only the walls did not talk about it. Everyone knew that Syria Martinez, the daughter of Luis Enrique, is engaged to a soccer player of the Spanish national team, present at the World Cup in Qatar.
It was the technical commissioner of "La Roja" himself who said everything, without being embarrassed, leaving aside that secret that was no longer such, because the chatter created by the rumors (and by the photos that immortalize the couple) made the report public.
"Lucho" (that's how Spain's coach was renamed) talked about it in the capacity of the broadcaster, taking advantage of the meeting on the Twitch channel through which he accepted the direct confrontation with the fans, who ask him about everything.
The coach and the footballer have broken the taboo and the embarrassment about the relationship that everyone knew between the player and his daughter. They (also) ask him indiscreet questions, which he answers with clarity, simplicity, even irony. He satisfies the curiosity of those who, albeit indirectly, asked him how he is in the unusual role of coach and at the same time 'father-in-law'.
The player in question is Ferran Torres, the 22-year-old left winger who broke out at Valencia, whom Pep Guardiola wanted to take with him to Manchester City, but the call of the heart made the boy return to his homeland, surrendering to Barcelona.
"Who is your representative on the field? The one that feels closest to you?" – says a follower. Luis Enrique does not avoid the question and answers immediately, without "biting his tongue". Indeed, he broke what seemed like a taboo subject, a possible shadow over the Iberian national team and its elections.
"This is a very easy question… It's Mr. Ferran Torres… otherwise my daughter would rip my head off," he admitted laughing and dismissing the uproar that had arisen with a joke. An intelligent, perfect communication strategy in terms of time and opportunities.
How did Torres experience this situation? How did he receive the coach's (and father-in-law's) public statement? The Barça striker denied any embarrassment or annoyance. "We all know that the coach likes to joke and this was just a joke during his live broadcast", – are the words of the football player.
In a later passage, he specified how professionalism and respect for roles can help alleviate the difficulty of separating family matters from those of the green field. "We both know very well how to keep the two situations separate, when it comes to the family and when we are in the player-coach relationship," the Blaugrana striker concluded.