"I look like Ronaldo… women want me and fans always ask me for the same favor"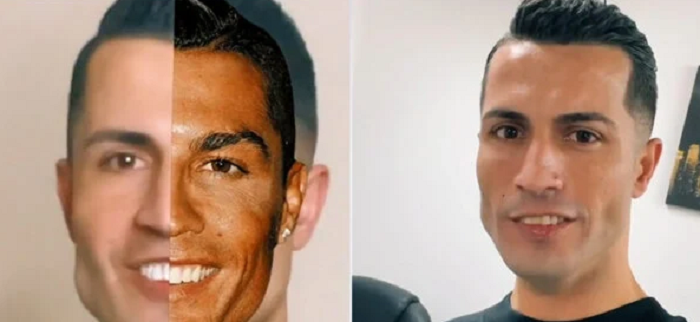 Cristiano Ronaldo's look-alike has said that women love him and fans always ask him for the same favor. Bewar Abdullah, 28, from Birmingham, is booked for children's parties because of his striking resemblance to the famous footballer.
Bewar also revealed that he still gets a lot of attention from women following the Portuguese superstar's explosive departure from Manchester United. Ronaldo, 37, was left on the bench for Portugal's crucial match with Switzerland on Tuesday night.
But his absence was not felt as the Portuguese won 6-1, with his substitute Goncalo Ramos scoring a superb hat-trick.
Bewar Abdullah imitador de @Cristiano Ronaldo
será que se parecen?🤔😉

Cuando pides a Cristiano Ronaldo en Wish 😂 #CR7𓃵 #CristianoRonaldo #Ronaldo #VIVARONALDO #MUFC pic.twitter.com/c3Qb8z33Aw

— Elia Maria VL 𓃵 (@eliamvl1) May 29, 2022
Bewar, originally from Kurdistan, said his appearance has made him very popular. He said: "Many people come up to me and ask for pictures and videos. They shout 'Ronaldo' when they see me. The fans think we are like an apple cut in half because we look so similar. When I have to watch a Portugal match, the atmosphere when I'm there it's very good.
"They wait for Ronaldo to score so I can do 'Siu'. It's my dream to meet the real Ronaldo one day. Fans even invite me to their children's birthday party as a present – I come and greet them , it makes them very happy."
Bewar said he also has women begging to go out with him. "I attract a lot of women," he added. Bewar has become a social media sensation on TikTok (@bewarcristiano), where he is followed by 1.3 million fans.
Aí você compra o Cristiano Ronaldo pelo Aliexpress

Crédito: bewar_abdullah_cr7 pic.twitter.com/UsXAVaL5Gr

— De Sola (@desolaoficial) September 13, 2021
In one post – which racked up 4.3 million views and 120,000 likes – Bewar posed with a mask of Ronaldo's face covering his own, before removing it and revealing himself. His uncanny resemblance to the soccer star has led people to believe that the real Ronaldo is behind the popular clips.
Bewar moved from Kurdistan to Britain in 2019 after "family and love issues" led him to look elsewhere for a "new life" – and he's never looked back.
He added: "My life changed. So many people I love here. I feel like I was born to be in the spotlight." Who does he think will win the World Cup? Bewar bets on Portugal or Brazil.