Hazard & Courtois downplay reports of Belgium stars bust-up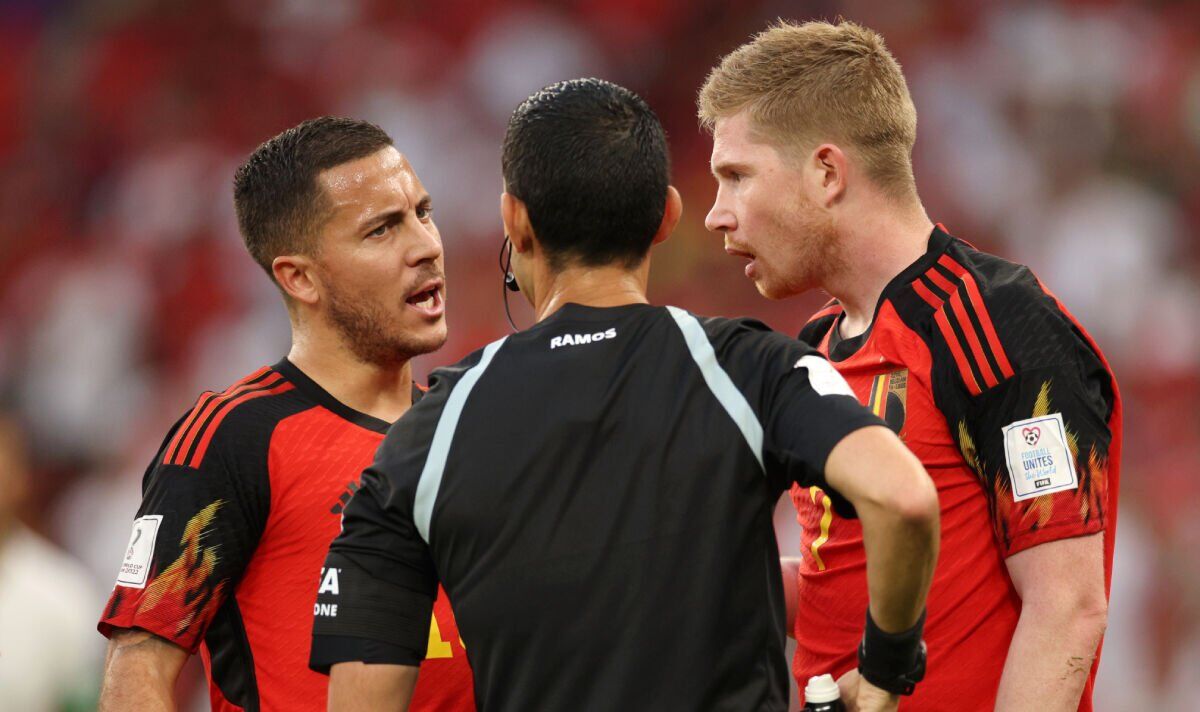 Over the past 24 hours or so, a lot of reports emerged claiming that several players in the Belgium World Cup squad were involved in a major dressing room bust-up following their defeat to Morocco. The Belgian Red Devils fell to a shock 2-0 defeat to the African nation this past weekend, which came after some interesting comments made by Kevin De Bruyne, with the Manchester City star stating the defenders in the national team were too old.
Jan Vertonghen seemed to have been upset by the comments made by the midfielder and appeared to take a dig at De Bruyne in his post-match interview. Following that reports from Belgium emerged that Real Madrid winger and Belgium captain Eden Hazard, De Bruyne and Vertonghen were involved in a bust-up in the dressing room.
It was stated that Hazard had a go at the Belgium defence for being too slow, and his remarks did not sit well with Vertonghen. The reports suggested that Romelu Lukaku, currently recovering from an injury, had to intervene and stop the players involved. However, Hazard has come out and dismissed those claims, stating that all the reports of a spat were total nonsense.
"Nothing happened after the game against Morocco. The rumours? A lot of nonsense. We had a good meeting yesterday with all the players," Hazard said. "There were no discussions with Vertonghen in the dressing room. I did not fight with him. I'm not stupid. He's bigger than me (laughs)."
About the remarks about the defenders being slow, Hazard explained: "No, the guys know my character. Jan came to talk to me about it and I told him that it was true, he is not fast ( smile), and he agreed. I laugh a lot, but when it's time to be serious, I am."
Talking about what De Bruyne had said in his interview, Hazard elaborated: "Sometimes, in interviews, you say things without thinking about the consequences. Yes, we are older than we were 4 years ago, it's true, I am, Kevin is, Thibaut is.
"That's the way it is. But Kevin has confidence in us, otherwise, he wouldn't be here." On whether he is considering international retirement and the upcoming match against Croatia could be his last, Hazard said: "I will not approach this match by saying that it is my last because, in my head, we will still go far."
Courtois also downplayed the rumours of the bust-up, stating that no such thing happened, saying: "There is no problem within the group. Of course, you are not happy when you lose. These outside stories bring us closer together. It will be a difficult game on Thursday. We will give everything."
About the comments made by Hazard and De Bruyne of players being old, Courtois insisted that age is not an issue, citing examples of his Real Madrid teammates Karim Benzema and Luka Modric. "That has all been cleared up. Sometimes it is also taken over differently.
Age is not important either, just look at Benzema and Modric. We are not too nice to each other either. Yesterday, everything was cleared up. Everyone expressed their opinions openly. Now we have to take action on the pitch," he said. Belgium will face Croatia on December 1 and will need to grab all three points in order to progress to the knockout stages.