Hakimi shouted in Infantino's face after World Cup loss!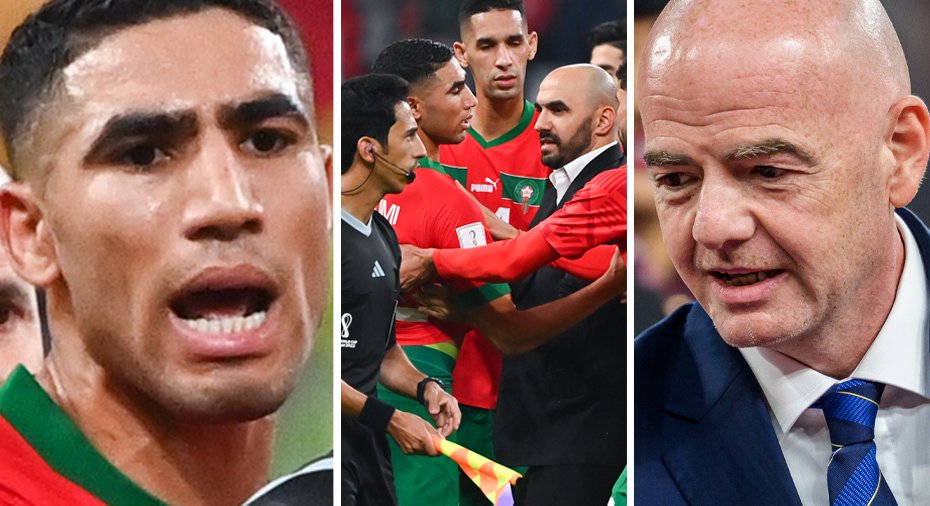 Achraf Hakimi has it bad. The Paris Saint-Germain defender has not digested the way Morocco left the World Cup. After the defeat against Croatia (1-2), the former Real Madrid player poured out his anger on Gianni Infantino.
According to Thomas Wagner, a journalist for Magenta TV, Achraf Hakimi attacked the president of Fifa in the hallway of the stadium, and "severely insulted" him. A verbal attack that would have shocked the journalist. "I have never experienced anything like this", confided the special correspondent of Magenta TV.
The Moroccans did not digest the arbitration of the Qatari Mr. Al Jassim. At the very end of the game, a penalty could have been called for contact between En-Nesyri and Petkovic. Earlier, Achraf Hakimi himself had claimed a penalty himself for a foul he believes he suffered at the entrance to the penalty area.
In addition to that, there is probably the memory of the semi-final against France (0-2) which is still present. Morocco had filed an appeal with Fifa, to denounce the fact that two penalties were not whistled in favor of the Atlas Lions.
استغرب لمـاذا كل هذا التهجم على الحكم من لاعبي منتخب المغرب رغم أن الحـالة الوحيدة المشكوك في صحتها كانت ركلـة جـزاء لـكرواتيا..

طبعًـا كان بإمكان الحكـم منع مثل هذه التصرفات لو كان أكثـر حزم منذ الشوط الأول.#المغرب_كرواتيا #Hakimi #MoroccovsCroatia
pic.twitter.com/RfawM7WlSw

— ☾🇸🇦 65 فـهــــــد (@AP_8_A) December 17, 2022