"Beer hunt" gone wild, English fans in Qatar wind up at a sheikh's palace with lions and monkeys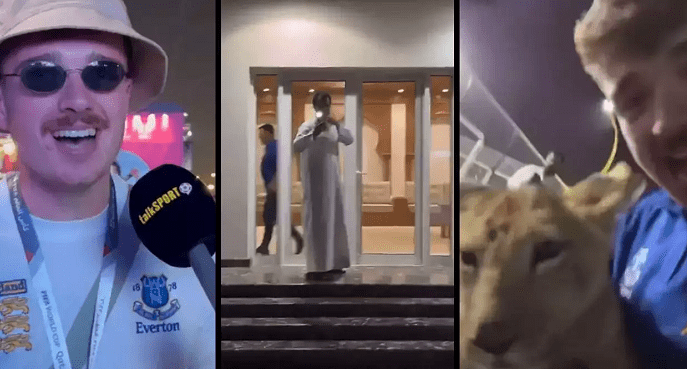 Finding booze led England supporters to a sheikh's palace where there were lions, monkeys, and exotic birds.
It may end up being one of the oddest tales of the Qatar 2022 World Cup, according to a group of England fans searching for beer in the alcohol-free country.
"We were having a terrific time", Alex Sullivan, an Everton supporter who traveled to Qatar to cheer England during the World Cup, said to talkSPORT.
Then John, his friend in Qatar, turned up to clarify: "We met one of the sheikh's sons last night, and he drove us back to the palace and gave us a tour. He had everything, even lions. It doesn't get any better than this; we were welcomed and given a tour."
Alex continued the narrative by saying, "We were looking for some beers and they said, 'We'll sort the beers,' so we jumped in the back of their Toyota Land Cruiser and found ourselves in a gigantic palace.
"He showed us his exotic birds and monkeys while we were in the back, and it was insane", he recalled.
Some #Everton fans (from #Liverpool, in the #UK), on how a "beer hunt" ended up with them visiting a "sheikh's palace" in #Qatar, with lions & exotic birds.

Couldn't make it up. 😂pic.twitter.com/9F8xgfIpkj

— Charles Lister (@Charles_Lister) November 20, 2022