Argentina vs. France play for history: the final is more than Messi against Mbappe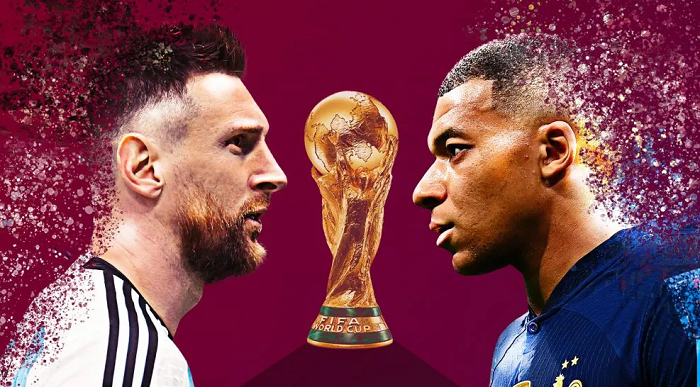 Today Argentina and France challenge each other in the final of the 2022 World Cup in Qatar: Seleccion wants to return to winning the World Cup after 36 years while Les Bleus want to defend the title won in 2018.
The challenge within the challenge will be Messi vs. Mbappe, the two number 10s, the strongest players in Argentina and France who are also fighting for the top goalscorer ranking (and the World Ballon d'Or).
Tension on the eve of the match between Benzema and Deschamps with the Real Madrid forward not being in Qatar to watch the final. Furthermore, the blue coach had to deal with the virus that has affected several players in his team in recent days.
Emotions in the house of the Albiceleste with Scaloni who declared that he wanted to "crown the big dream of everyone or at least make our people proud".
Possible formations Argentina-France. There are no surprises in either team. Di Maria and Lautaro on the bench for Argentina, but ready to be activated later in the match. Deschamps finds Rabiot and Upamecano again. In front of a four-star line-up with the attacking terminal Giroud. Messi and Mbappé obviously on the field.
Possible line-up
Argentina (4-4-2): E. Martinez; Molina, Otamendi, Romero, Tagliafico; De Paul, Paredes, E. Fernandez, Mac Allister; Messi, Alvarez.
France (4-2-3-1): Lloris; Koundé, Varane, Upamecano, T. Hernandez; Tchouameni, Rabiot; Dembele, Griezmann, Mbappé; Giroud.
The Stadium
The iconic Lusail Stadium, also called the Lusail Stadium, will be the venue for the Argentina-France final. A plant created in recent years. The works started in the spring of 2017 and the inauguration took place on November 22 with the match between Argentina and Saudi Arabia.
This is a stadium with 86,250 spectators and after the World Cup there will be further restructuring. Many stands will be dismantled and a stadium for around 40,000 spectators will remain.
This will be the tenth match of Qatar 2022 at the Lusail Stadium. Surprisingly, this will be Argentina's fourth match at this stadium, after those against Saudi Arabia, the Netherlands and Croatia.
Leo Messi and Kylian Mbappé are the strongest footballers in the world and are the leaders of the two finalists. But Messi and Mbappé are also the top scorers of the 2022 World Cup.
Both have scored 5 goals and will also fight for the top scorer title. Even if they won't be alone. Because in 4 goals there are two other players who will play in the final of the Qatar 2022 World Cup, namely Olivier Giroud and Julian Alvarez.
Qatar 2022 Top Scorers Ranking
5 goals: Leo Messi (Argentina), Kylian Mbappé (France)
4 goals: Julian Alvarez (Argentina), Olivier Giroud (France)